About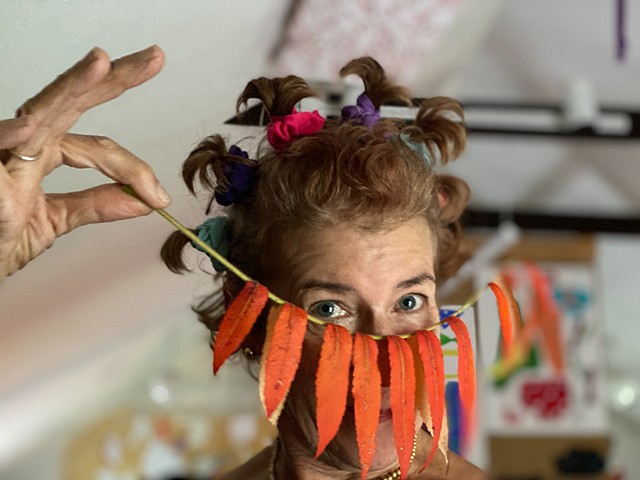 Elizabeth Wickenden McMahon is an artist whose love of color and happenstance has inspired her work from painting to songwriting, puppetry to collage. Living on an old farm in Upstate New York, the seasons and surprises in nature go hand and hand with the fun and spontaneity in Elizabeth's work. She uses paper, paint, yarn, and tape, in a collage process to build her large billboards of shapes and smaller compositions.
She studied Fashion at Parsons School of Design and received a BFA in Painting at Syracuse University in 1973.
While raising a family, she shifted her focus to puppetry and songwriting, winning a Parent Choice Award for her recording, Waltzing with Fireflies in 1994. Traveling the hills and dales as Mrs. McPuppet, Elizabeth performed for school children with her whimsical collection of puppets and songs.
In January 2021, she created an installation for the Var Gallery in Milwaukee and in October received the Mixed Media Award at the Buchanan Center for the Arts in Illinois. Her solo show Circle Round, Lost and Found opened March, 2022 at the Roaring Artist Gallery in Texas. From her gigantic cake paintings of the '80s to her Tea Party Shuffle Dance Song to the latest assemblage The Birds and the Bees and the Z-bra Trees, Elizabeth embraces the moment and translates her life into art.